Member Article - September 2008
The following article is featured on the IMCA Insights page.
The full version of this article is published in the November 2008 issue of METEORITE! magazine.
Meteorite Association of Georgia History
Epiphany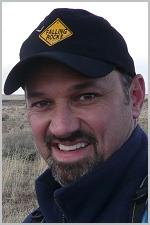 Article by Dave Gheesing
After having spent the better portion of this decade dabbling with meteorites, I was fortunate to have established friendships with many amazing people across the pale blue dot we call home. The bandwidth explosion vis-a-vis the tech boom of the 1990s had also globalized the meteorite community, though I'd never been part of this network prior and therefore had no benchmark against which to compare this phenomenal development. Scientists, dealers, hunters, collectors, curators and the like were connected at the speed of light through the meteorite list and an explosion of websites and countless other tools via the world wide web. With a rapidly increasing frequency, I was in regular communication with Europeans, Asians, Africans, Australians, other North Americans, etc, on the subject of meteorites. As enjoyable as this online network had rapidly become, it was no substitute for spending some quality time, face-to-face, with a fellow meteorite enthusiast.
In my professional life I am in the business of building networks of entrepreneurs across the United States. There is a certain magic that happens when a group of individuals in a common arena come together to network, and in early 2007 it occurred to me that, with a population in excess of 5 million, there MUST be AT LEAST ONE other human being in the metropolitan Atlanta area who either collected or had some other interest in meteorites. The search was on...
Launch Countdown
My first attempt was at my alma mater, the Georgia Institute of Technology. When I contacted their geology department I was told that they didn't really have much involvement with the media (the assistant on the phone thought I'd said "media rights").
Strike one.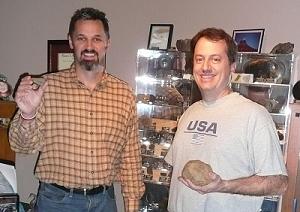 The author at David Hardy's house with David's wonderful
collection and the Statesboro, Georgia, meteorite
So, I joined the International Meteorite Collectors Association and started looking for members in Georgia. David Hardy's name first hit my screen, and I sent him an email that essentially said, "Hey. I live on the other side of Atlanta and collect meteorites too, and if you'd ever like to get together, compare notes and talk about sky rocks let me know." His response was quick - something like, "Sure. Whatever." I didn't realize at the time that a guy who had well over 300 locations in his collection and who had been collecting for a much longer time than me had probably grown weary of the "I was walking on a path in the woods, heard this sound, then picked up this hot rock and would like to show it to you" crowd.
Strike two.
(He's going to kill me for writing about this, but it has turned out to be a fun story; not only is David a great meteorite collector, but he's also become a terrific friend - in spite of the fact he's a University of Georgia Bulldog.

)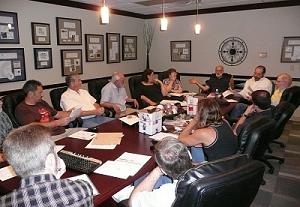 President Anita Westlake chairs an association meeting
The only other IMCA member in Georgia at the time was Anita Westlake, so I sent her a note and, voila, we decided to meet at a local mineral and gem show in May 2007. We hit it off right away and it turned out that she knew SEVERAL meteorite collectors in the local area. After a few emails and phone calls, she'd pulled a group together to meet at Jerry Armstrong's house on the west side of town in July 2007.
Blast Off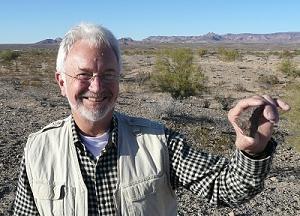 Barry Gheesling with his nice Franconia specimen
find on a hunt with Robert Ward
My father, Barry (who was by then starting to catch the meteorite virus through osmosis), and I drove across town to meet at Jerry's house on Saturday, July 14, 2007. A man answered the door, and I said, "Hi, I'm Dave Gheesling." He said, "Come on in." I asked, "And who are you?" He smiled and said, "Jerry Armstrong," and what has become a fantastic friendship was born. Anita had several friends there with her - Harlan Trammell, John Iacullo, Martha Brown, Tim and Bunty Cantwell, and Jerry - and we absolutely had a blast. We had all brought some show-and-tell pieces from our collections and talked about what it would be like to put a formal group together. We then did some trading and my recollection is that something approaching ten hours had passed before we broke and went home.
We'd decided to formally meet on a quarterly basis, but right out of the chute many of us were getting together informally to do lapidary work, trade meteorites and just enjoy the camaraderie of meeting with other people who'd actually heard of carbonaceous chondrites. The Meteorite Association of Georgia was off and running fast out of the gate.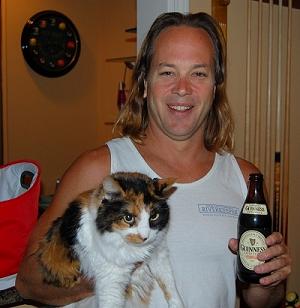 Captain Harlan Trammell with Guinness
the cat and Guinness the beer ;-)
The next meeting was on October 6, 2007, at my house, and, among many other things, we developed a mission statement for the group. Using the acronym TEACHING, we established the following areas of focus:
Trading
(each member meeting
includes time for trades)
Ethics
(the highest standards of integrity
in representing the field)
Awareness
(speakers are available from within
the group to lecture on meteorites)
Children
(education within the group is important,
and inspiring children is a priority)
Hands-On
(field trips for specimen hunting,
museum visits and general research)
Inclusive
(this is not an elitist group...
come one come all!)
Networking
(camaraderie and networking
within the group)
Group Acquisition
(on a voluntary basis members
occasionally pool resources)
The group started with an incredible foundation, not only through the focus of this mission statement but within the early membership itself. Anita, who would be unanimously elected as our group's president, was also the president of about every other rock-related organization in Georgia. Jerry is a world-renowned cosmic artist (see www.fallingrocks.com/paintings.htm or www.michaelbloodmeteorites.com/JerryArmstrong.html), an accomplished amateur astronomer and co-discoverer of a supernova in M51 on April 1,1994 (no, not an April Fool's Day joke), the owner of a 300-plus location meteorite collection, and an expert on fossils and all sorts of Roman artifacts. Harlan is the entrepreneurial Indiana Jones of the group, one of the first meteorite collectors in Georgia (along with Jerry and David), a successful artifact hunter, a storm chaser and a boat captain. David, who joined the group at this second meeting, posts his fantastic collection at www.skyrox.us. And this is only the tip of the iceberg, as there are now over three dozen fascinating members of this rapidly growing association.
Kryptonites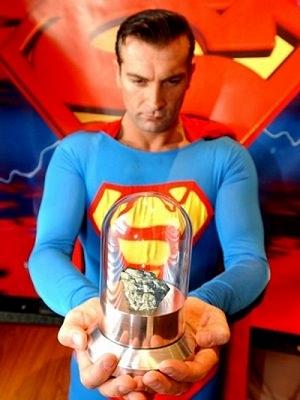 Sean Murray's 23 gram Kryptonite
specimen (aka Tatahouine)!
In December 2007, several members manned a MAG booth at another local mineral and gem show in an effort to start the membership recruiting process. We had several specimens on hand and small chondrites available to give to children and new members, and the enthusiasm around our booth was really quite incredible for such a young organization.
Sean Murray made the mistake of walking over to our booth with a nice Sikhote-Alin specimen in hand to ask whether or not we thought it was worth the asking price. We confirmed that the specimen was a high quality representation and that the price was more than fair, so he bought what would become the first of many specimens in a growing collection that also includes many fine tektites. Sean's collection can be seen at
www.starcatching.com
, and his web development prowess is also the reason that MAG has such a terrific web site. Incidentally, while Harlan is the Indiana Jones entrepreneur of the group, Sean is the Indiana Jones collector of the group - boasting one of the two largest memorabilia collections in the world from the record-setting movie trilogy. With that background he should have known better than to have bought a meteorite, but I'm afraid it's too late for him to ever recover. New member Wayne Dodd is clearly following in his footsteps, and I doubt there's anything we can do to help him at this point, either.
Distribution Ellipse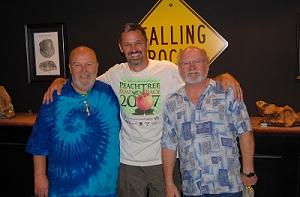 The author with Michael Blood and Jerry
Armstrong during Michael's recent visit
It is a fantastic time to be part of a growing organization of meteorite enthusiasts, as meteorites are growing in popularity across the world and MAG is now a small part of that advancement. Meteorite dealer Michael Blood was in town for a visit with Jerry not long ago, and Jerry invited MAG members over to meet Michael and see some of his collection he'd brought with him. Michael noted that he'd never seen such an enthusiastic group of collectors, and his comments prompted the writing of this article. Setting up your own groups across the globe would be a rather easy thing to do; it just takes the initiative to develop a formalized schedule and agenda - and finding a great president like Anita wouldn't hurt either.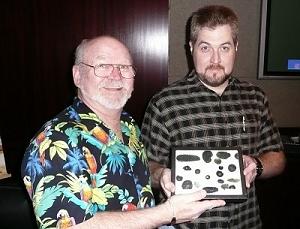 Jerry Armstrong and Sean Murray complete a large
exchange of rare tektites during a recent meeting
I've been working with a new local museum to try and help them assemble a compelling meteorite exhibit in their impressive new facility, but it has been a challenging process because they are a "rocks and minerals" museum and by virtue of their history and funding realities there has been little focus on the most fascinating rocks and minerals any human can directly experience - meteorites themselves. Recently, their curator brought their executive director and another executive to my house for the evening to talk and learn about rocks from space. Coincidentally, my friend - meteorite collector, hunter and dealer, Eric Olson - was staying overnight at my home while passing through town, so I also invited several MAG members to join us for the evening. What was planned as a brief gathering over dinner turned into yet another epic run into the wee hours of the morning, and the curator called me the next day to say, "In all of my years I've never seen a group of mineral collectors that excited about getting together." I replied, "That's easy to explain, because, compared to meteorites, what about minerals is there to be excited about?" It's probably a good thing he has a healthy sense of humor.

Membership in the Meteorite Association of Georgia is not limited to Georgia residents, and we already have several members who live outside of Georgia. If you are interested in learning more about MAG, please contact us.
Dave Gheesling is chairman & CEO of FEI Group (www.floorexpo.net), a co-founder and director of The Scotty Foundation (www.carecuredream.org), lives in Alpharetta, Georgia, with his wife, three kids, two dogs, three cats, and a few meteorites, some of which can be seen at www.fallingrocks.com. For questions about educational outreach efforts or whatever else he can be contacted via his Website.