2007 Meeting Minutes
Please feel free to
contact us
with any questions or additions... Thank you!
---

October 6th, 2007:
Georgia
Dave's Falling Rocks Collection
Meeting was called to order at 11:00 a.m.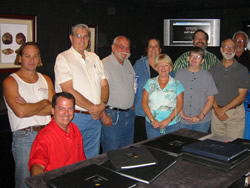 The October 2007 meeting at the Falling Rocks collection was a blast! We all enjoyed Dave's meteorite collection, had a great time visiting with each other, snuck in a short business meeting, cut some meteorites and had a fine time all the way around. If you left early, you missed the bacon-wrapped scallops.



Guests:

We had two visitors: Eileen and CR from Prospector's Pouch in Kennesaw.



Logo Status:

Dave showed us a logo he was working on for our association, and Carl sent an idea for one via email. Ideas are encouraged. A final decision will be made at the next meeting.



Georgia Meteorites Document:

Anita distributed free copies of "Georgia Meteorites" generously donated from our own Walter Branch. Everyone appreciated the gift, and most members did not previously have a copy in their collection.



Introductions:

Per Dave's suggestion, we went around the room discussing "why we were here" (why we wanted to be part of a meteorite association.) Thoughts included: camaraderie among like-minded people, the chance to be educated by others in the group, and to educate the public, a chance to see other members collections, the opportunity to buy/trade/sell at every meeting, the opportunity for field trips, developing opportunities to speak with groups and especially children, and using the group as a way to share news, updates, etc. about the meteorite world (recent falls, finds, auctions, etc.)



Meteorite Central:

Anita mentioned the meteorite list-serve she has belonged to for years: "meteoritecentral.com"



Membership Dues:

We discussed membership dues (and later decided) that $25.00 a year would be a reasonable amount.



Application Form:

Anita developed an application form and passed it around the room for comment. The only change to the form was to add the word "Planet" under City, State, Zipcode. Ha Ha.



Website Progress:

Dave mentioned developing a web site and getting that up and running as soon as possible. This is one of the best ways to increase membership and consequently, money coming in. He is working on getting the web site up and running and will lay out the initial cost (to be reimbursed after the membership dues start rolling in.)



MAG Official Status:

Anita is doing research on creating a real, live association through the state of Georgia. Fees, forms and finalization will be discussed at the next meeting.



Voting for President:

A brief discussion took place about the qualities of a good president: one who has the time, the energy, and the inclination to serve. As things are going along quickly, we should probably do an email blast to the members and see if we can get consensus on a new President via email. Dave will coordinate this.



Next Meeting:

We adjourned before discussing the next meeting. Here's hoping January 12th at 11am at Anita's house in East Point will work for most of you. I will have a roaring fire in the fireplace (hopefully it will be cold enough), will make home-made chili and cornbread, and will serve red wine for those inclined.



Next Agenda:

Getting a post office box, Volunteers for Secretary and Treasurer, Deciding on a logo, More as things come up... Please feel free to add to this list.
Anita D. Westlake,
MAG President
---

July 14th, 2007:
Winston, GA
Jerry Armstrong residence
Meeting was called to order at 11:00 a.m.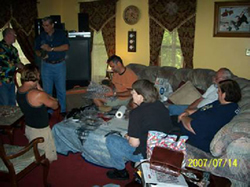 Thanks everyone for a great 1st meeting! The barbeque was rivaled only by the enthusiasm of the group. And that took a back seat to the AWESOME specimens we got to drool over. (I hope we didn't drool on any "rusters.") I really appreciate every one taking the time and trouble to make the first meeting, and share your ideas. We had folks come from as far away as Dahlonega! (Tim and Bunty) and one member who called in from England! Don't forget to talk us up to your friends. The more the merrier.



Field Trips:

Hal Povenmire (who wants to be part of our group, but I have temporarily misplaced his email address) has offered to take us Georgia Tektite hunting this coming November!!! More information forthcoming.



Distribution List:

If you want to be removed from this list, please email Anita at and she shall remove you - no questions asked!



Member Contact Info:

We distributed the names, phone numbers and email addresses of folks who attended our first meeting (or wanted to). If you can fill in some of the blanks, please do so and resend to the group.



Next Meeting:

Our next meeting will be October 6th, at the Falling Rocks Collection from 11am-3pm.
Anita D. Westlake,
MAG President
---
Please feel free to
contact us
with any questions or additions... Thank you!